Ontario International Airport (ONT) is breaking down digital barriers by providing Recite Me cloud-based accessibility tools on its website. 
Located in the Inland Empire, approximately 38 miles east of downtown Los Angeles in the center of Southern California, ONT is a full-service airport that offers nonstop commercial jet service to nearly two dozen major airports in the U.S., Mexico, Central America, and Taiwan. 
It is estimated that 1 in every 4 people in the US lives with a disability which makes accessing online content challenging. This means that many individuals do not have access to the tools they need to carry out day-to-day online tasks such as booking a flight ticket or obtaining information on how to get to and from the airport. 
In 2022, Ontario International Airport welcomed more than 5.7 million travelers, therefore it was important for them to create a unique online experience for each website visitor and traveler.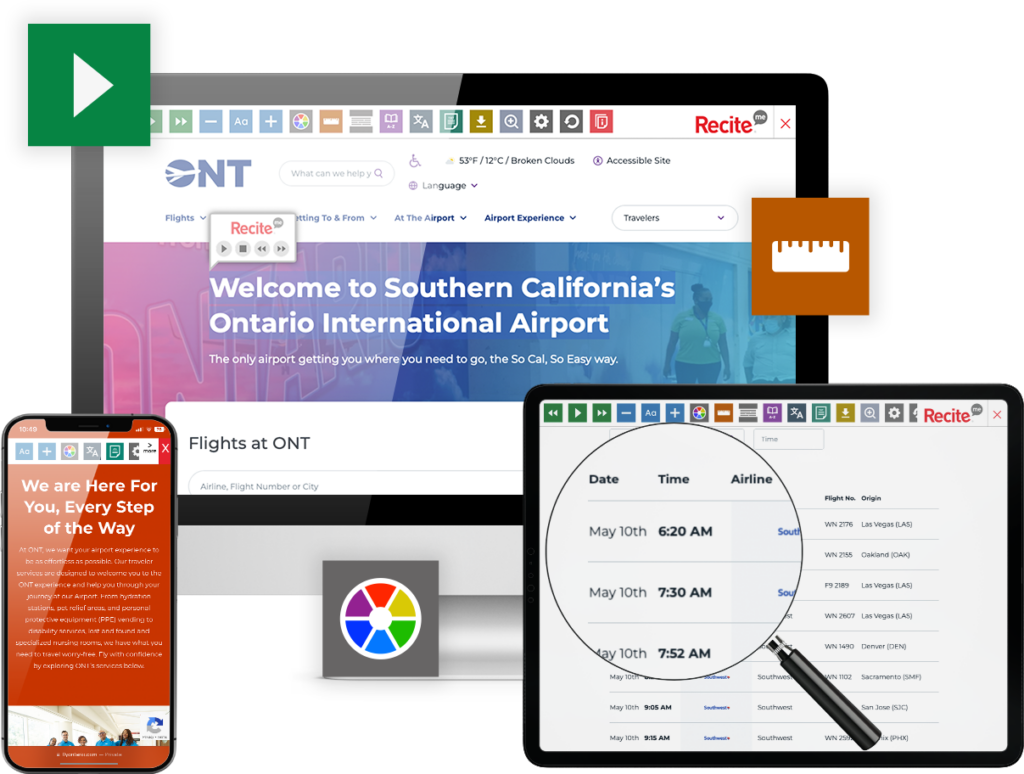 Sydnee Thompson, Digital Media Consultant, at Ontario International Airport commented:
"At ONT, we take pride in our efforts to connect people, places, and opportunities to build a better world. Recite Me allows us to embrace these efforts by offering an inclusive, accessible, and interactive option for all of our constituents to have the best experience on our website and with our brand before they ever step foot into our terminals."
The Recite Me language and accessibility toolbar available on the Ontario International Airport website provide a suite of customizable options including, screen reading functionality, multiple reading aids, customizable styling options, and an on-demand live translation feature that boasts over 100 languages including 65 text-to-speech.
By implementing accessibility tools on airport and airline websites, you contribute to an inclusive online environment and support thousands of people to access vital travel information barrier-free. 
Are you ready to make flying seamless for all of your passengers? The Recite Me team is ready to help you get started! For more information, contact our team or book a real-time demonstration. Additionally, you can check out the Recite Me website accessibility checker for a free audit of your site.