Understanding Online Inclusion: A Guide for Human Resource Teams
In today's increasingly global workplace, diversity and inclusion factors - including website accessibility - are vital components of a healthy organisational culture.

HR teams are often the unsung heroes of a company's growth and success. After all, it's their job to create a diverse team whose cumulative experiences and perspectives translate into a competitive advantage. Effective HR professionals purposefully focus on creating an inclusive environment to motivate staff, reduce absenteeism, and increase productivity levels while simultaneously ensuring the best practices for attracting, recruiting, developing, and retaining the best employees.
Why HR Roles are Paramount to Support Diversity and Inclusion
As a strategy in its own right, diversity empowers organisational culture and drives the company forward. By drawing from the widest pool of talent available, HR departments can:
Acquire high-quality staff

Discover new skill sets

Find and leverage untapped opportunities

Identify new trends

Improve innovation

Create equal opportunities

Demonstrate fairness

Improve staff morale

Increase revenue and profits
"HR professionals are integral to key parts of businesses. An HR team that is skilled and knowledgeable about diversity and inclusion is essential to support the overall business plan. Diversity and Inclusion should be the golden thread for HR teams in supporting the workforce to be the best it can be and enhance company performance."

Alex Greenwood, Head of People and Culture at Derwent Students
Disability and Diversity
The key for HR professionals is to alter their perceptions of disability as a factor in their diversity and inclusion policies. Traditionally, physical disabilities have always been included in D&I considerations along with gender, race, sexual orientation, cultural background, age, etc. However, there is a long list of none physical conditions that put users at a digital disadvantage. We call these hidden disabilities, and examples include vision problems, neurological differences, cognitive impairments, language issues, and learning difficulties.
Online Barriers
Applicants and employees with hidden disabilities are at a significant disadvantage online as they cannot assimilate information on websites easily. Accessing content is usually challenging for one of four main reasons:
People Can't Read It - The size of text, the font used, and the colour contrast between text and background can all be barriers to reading.
People Don't Understand It – Web copy should be in simple language, run logically, and include alt tags and link descriptions.
People Can't Navigate It – Website errors like empty links and buttons, missing input labels on forms, and missing document language often make keyboard navigation impossible.
People Don't Trust It – Flashing images, videos, or image carousels can be triggers.
Without making adjustments for this, businesses fail to:
Tap into the broadest talent pool available

Provide an inclusive candidate journey

Support employees with the tools they need to excel

Allow staff to learn and grow to their full potential
Facts and Stats
More often than not, hidden disabilities have zero effect on a candidate or employee's ability to perform. In fact, in many cases, supporting people with a disability can be a competitive advantage.
"According to Accenture's 2018 study, The Disability Inclusion Advantage, companies that embrace best practices for employing and supporting people with disabilities outperform their peers with higher revenue (28%) and profit margin (30%)."

John Stern, Accessibility Advocate
To get an idea of the scale of the number of people affected, let's look at some global statistics.
2.2 billion people suffer from visual impairments
On average, around 20% of the population has a learning difficulty
Approximately 15% of the population is neurodiverse
Millions of people speak English as a second language
About 2% of the population is Autistic
Over 1 in every hundred people have epilepsy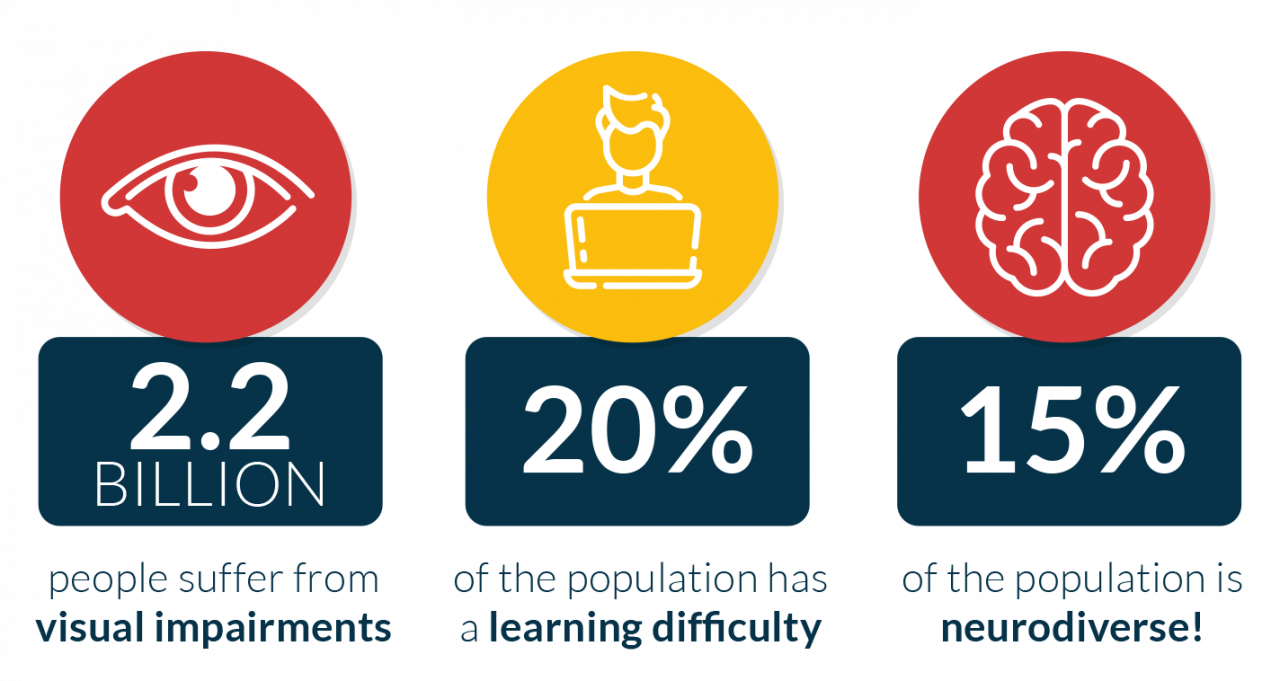 How You Can Help
Adopting inclusive web design principles and ensuring your social media profiles are accessible is a good start. Another proven way of supporting people online is by utilising assistive technology. Assistive software allows adaptions that account for varied digital access barriers.
The Recite Me assistive toolbar is already used by hundreds of companies to support diversity in the workplace. Our software provides a variety of tools that allow users to create a fully customisable experience by:
• Personalising font size, type, and colour options to make each web page easier to read.
• Utilising the mask screen tool, which isolates parts of the page to help with focus.
• Using the ruler tool to make reading easier.
• Downloading content as an audio file as an alternative to reading.
• Converting page content into over 100 different on-screen languages.
• Having the page read aloud in a choice of 35 different languages.
• Customising PDF documents and have them read aloud or translated.
Recite Me Data
Our software is already installed on over 3500 websites, and every day we help thousands of internet users to enjoy accessible and inclusive online journeys. In the careers sector specifically, our most recent stats over 12 months show that:
Our toolbar was launched over 96,000 times
Nearly 400,000 careers pages were accessed with the Recite Me toolbar enabled
Our accessibility features were used nearly one million times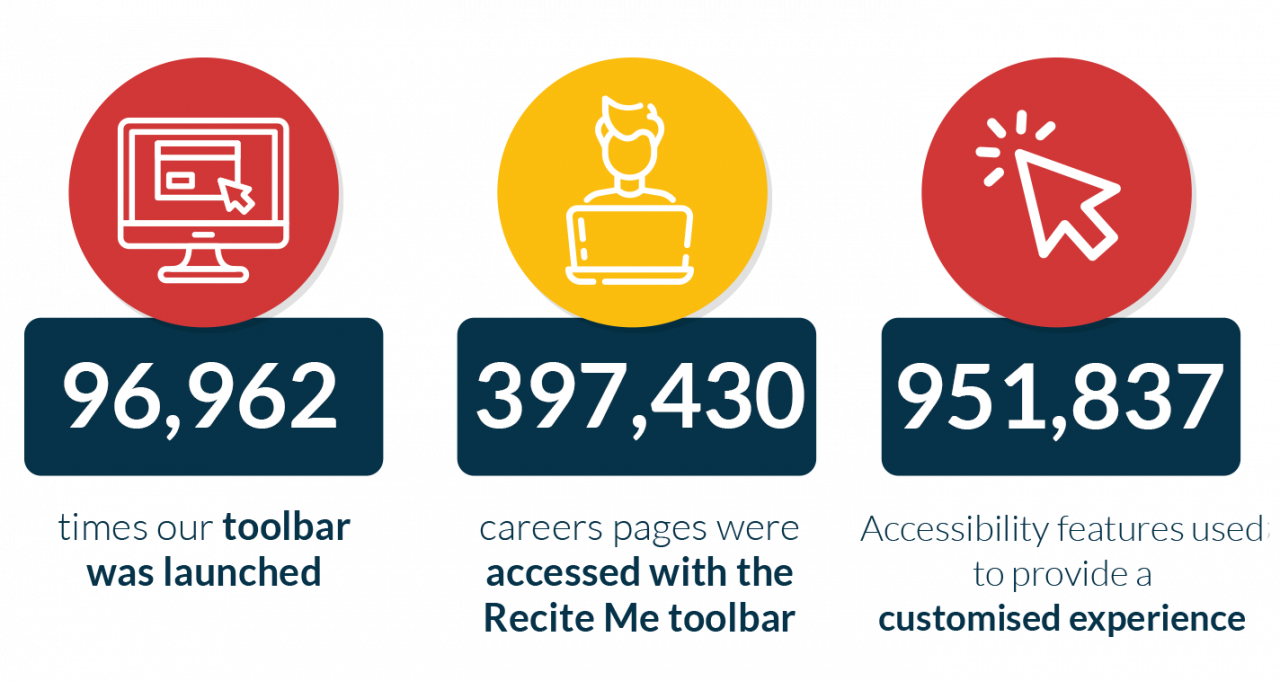 Industry Leaders
We are proud to work with numerous organisations in the HR and recruitment sector already, including:

Champions for Change
The Clear Company works with a wide range of clients to allow unseen talent to shine. Established in 2003 with a mission to remove inclusion barriers and create diverse workplaces, they are now a recognised leader in inclusive recruitment and talent management.
"HR and people teams are pivotal to the D&I journey within organisations, although ultimately leaders must be accountable. Therefore, it is key that HR teams have the skills, knowledge, and capability to advance D&I priorities in the same way that HR professionals can progress in reward, recruitment, and other areas of specialism. One aspect of inclusion that is often overlooked is that of digital inclusion. With so many HR teams relying on access to systems to self-serve on HR matters, receive communications and performance reviews, it is more critical than ever that accessibility is a key pillar of any D&I plan."

Jenny Hinde, Executive Director, The Clear Company
5 Steps to a Digitally Inclusive Workplace
Here's our 5 step process to guide you along the path to inclusion.
1. Integrate D&I into Your Core Values
Ensure your organisation complies with disability discrimination laws
Gather employee feedback regularly
Make sure that employees with disabilities have a say in decision-making processes
2. Become Disability Confident Employer
Disability Confident schemes exist to help employers be more inclusive and explore the benefits of employing disabled people. Over 20,000 forward-thinking companies are currently registered as Disability Confident – Recite Me being one of them, of course.
3. Provide an Inclusive Candidate Journey
To tap into the biggest pool of talent, you need an inclusive recruitment process. We invite you to download our guide to accessible online recruitment, compiled in partnership with Guidant Global.
4. Use Assistive Technology
Accessibility software allows disabled people to access your website and job vacancies in the way that works best for them. Many organisations also use accessibility software on internal systems like intranets and learning platforms to ensure company information is fully accessible and inclusive to their employees.
5. Seek Advice
Committing to a more inclusive organisation is a significant step forward. But we know it can be confusing and intimidating at times. Don't panic, though, as some fantastic companies specialise in supporting businesses to develop more inclusive practices within the workplace. Here are some examples:
Inclusive Employers - The UK's first and leading membership organisation supporting businesses to develop more inclusive practices within the workplace.
RIDI – a non-profit initiative to create disability confident recruiters and help to reduce the disability employment gap.
Verdica – A recruitment agency specialising in diversity and inclusion.

Article Sources: WHO, United Nations, CDC
If you'd like to know more about how assistive technology can help make your business more inclusive, you can contact our team or request a demonstration.