The Salvation Army Become the First Australian Charity to Offer Accessibility Tools Online
The Salvation Army is the first Australian charity to offer Recite Me accessibility and language tools online to support those with additional needs online.

The Salvation Army Australia is an international Christian movement, united by faith and giving hope where it's needed most to every demographic and age group.
Valuing all people is at the heart of the Salvation Army, aiming to provide a safe, welcoming, and fully inclusive program to people of all ages, abilities, and backgrounds.
By recognising the diversity of its members, the Salvation Army is sensitive to the needs of people who often find it difficult to access and use services in times of crisis. To provide services and information to all the Salvation Army have implemented assistive technology to provide those with disabilities, learning difficulties, visual impairments, cognitive or neurological disorders, and those who speak English as a second language.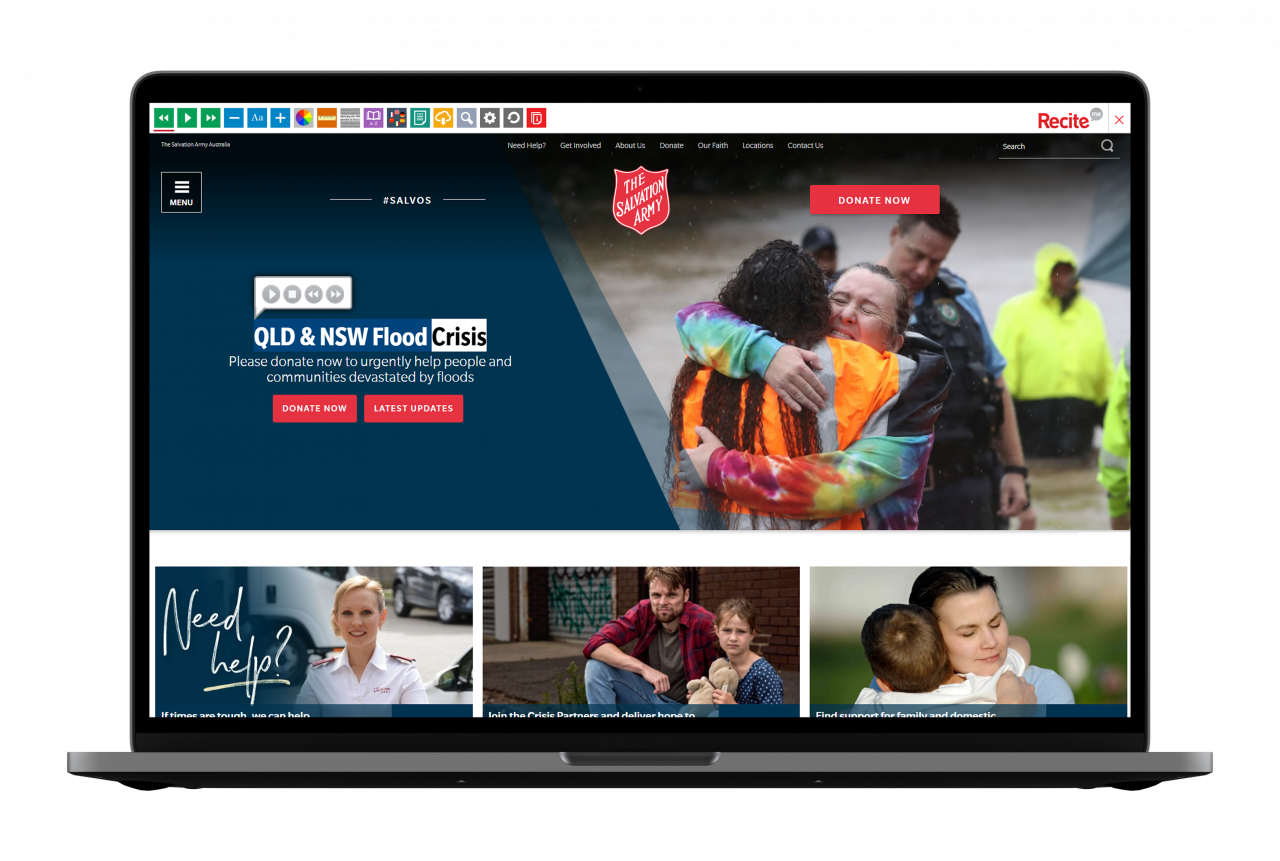 Adrian Kistan, General Manager Mission Inclusion, said the Army is committed to the inclusion of people from diverse backgrounds, particularly people of all abilities (including those living with a disability).
"The internet can be an incredibly intimidating place for those with access barriers, and those lacking the tools they need to adequately understand or communicate are at a significant disadvantage," Adrian said.
"The Diversity & Inclusion team identified the need to improve access to and awareness of the Salvation Army's social services and spiritual support for people of all abilities."
The accessibility and language toolbar on the Salvation Army website provides features such as, screen reading functionality, multiple reading aids, customisable styling options, and an on-demand live translation feature that boasts over 100 languages including 35 text-to-speech and styling options.
"As part of our diversity and inclusion strategy, website visitors are now able to access a wide range of accessibility and language support tools to customise their digital experience," Adrian said.
If you would like more information on how your organisation can provide an inclusive online experience by using assistive technology, contact our team or book a real-time demonstration of our toolbar.