Scottish football club St Johnstone FC has become the first professional football club in the UK to add Recite Me's accessibility and language software to the club's website.
The Perth-based team, nicknamed Saints, introduced the new software ahead of the side's pre-season friendly with Aberdeen on Saturday 8 July.
The club has introduced Recite Me to make popular online content like club news and fixture dates, plus the ability to make ticket purchases, available to as many people as possible.
When you visit the St Johnstone FC website you will now see a round blue and white button with a person on it in the bottom right-hand corner of the page.
You can click on the button to open the Recite Me toolbar plugin for accessibility, which will appear at the top of the website.
The Recite Me software can change the font size of the text, read it out aloud to you, or even change the language into over 100 different languages – from Scottish Gaelic to Serbian.
Steve Brown, Chairman of St Johnstone FC, said: "I'm delighted that Saints are leading the way in British football with the use of this software. I've seen the demonstration and it's really impressive.
"It's easy to see the benefits for supporters with a range of difficulties with vision and other disabilities which affect their ability to get the most out of the website, as well as for anyone for who English is not their first language.
"This investment puts St Johnstone FC at the forefront of the use of this technology and is great for the club."
Sandy Riach from the Scottish Disabled Supporters Association said: "This is a game changing piece of software that opens up a whole new world to people with disabilities. All of the functions make using the club website even more accessible and user friendly.
"A great piece of software development which ticks another box in making the world a more inclusive place."
Access auditor Keith Ferguson said "I carried out an access appraisal at St Johnstone in 2016 in order to meet Scottish F.A. licencing requirements. It was clear to me then that the club took the subject of accessibility seriously and have worked hard at making improvements whether small or large.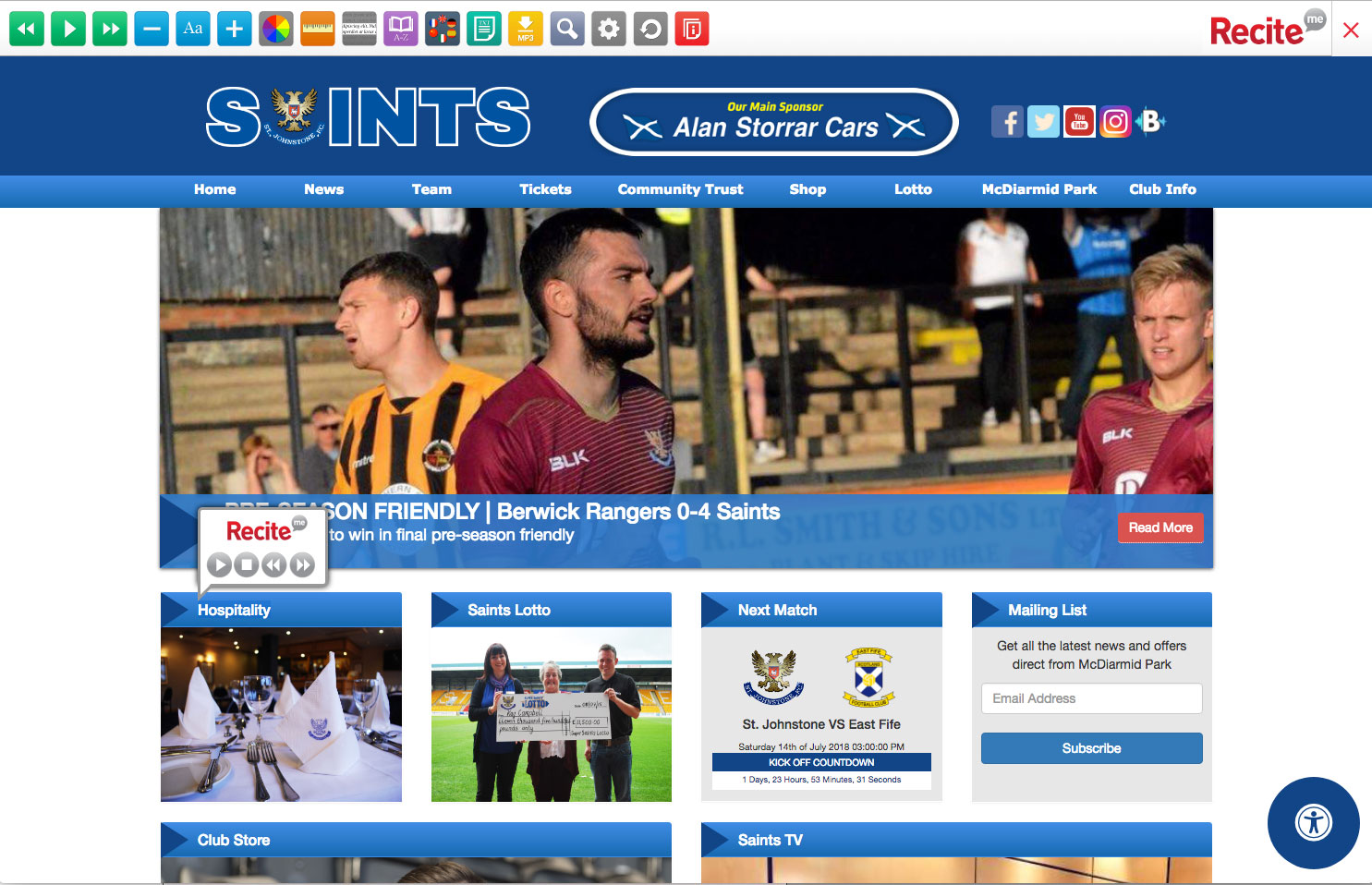 "Having this software installed is another example of the club's commitment to continual improvements and they should be applauded for being the first in the UK. My son is dyslexic and a keen football fan so I encouraged Sean to take a look at the application. His feedback was very positive, advising 'It is a very clever system. The 'text to speech' function is excellent . I really liked the ability to change the font to whatever was easiest for me to read and being able to change the background colour made a huge difference visually, plus I had the assistance of the ruler which was an added tool I wasn't expecting.'"
Ross Linnett, CEO & Founder of Recite Me said:
"St Johnstone FC are a club supported by a diverse and growing community in Perth and beyond, who all want to stay in touch with the club's latest news.
"Nowadays people also want to be able to customise web content to suit their own preferences and they want it to work on their computers, laptops, tablets and smartphones. Football fans are no different.
"Recite Me's access and language functionality truly makes St Johnstone FC's website more accessible and inclusive for their fans and also for other users who may be looking to book facilities at McDiarmid Park. We hope to see other football clubs following suit and making their website more inclusive for everyone."
If you'd like to learn more about how you can become more accessible, then try our WCAG accessibility checker today.