Unprecedented times. Toilet paper shortage. Social distancing. The new normal. These are just a few phrases that have dominated our daily lives and social media feeds over the last couple of years. All of us have faced challenges in one form or other, whether political, economic, or social. But possibly no group more so than our disabled community.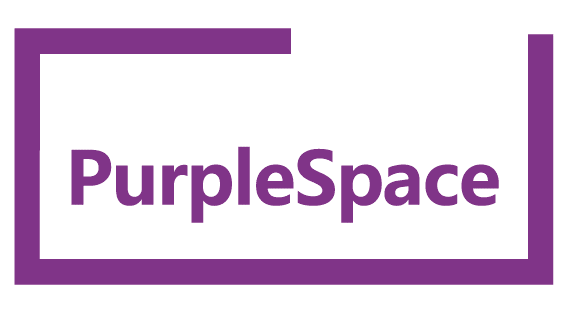 On December 3rd, we'll be partnering with PurpleSpace to celebrate International Day of People with Disabilities (IDPWD). The theme for this year's IDPWD is "Fighting for rights in the post-COVID era." Now that the 'new normal' appears to have arrived and we begin to move forward and reclaim our lives and livelihoods, there's no better time to look at how the COVID-19 pandemic has affected the digital landscape.
So, what online challenges did people face during COVID-19? What was done to help? And what changes are still required in the future to achieve our goal of accessibility for all? Join us as we take an in-depth look.
The Effect of COVID-19 on the Digital World
In times of stress and uncertainty, vulnerable members of society are put under additional pressure. During the COVID-19 pandemic, we all got used to a different way of life – working from home, seeing less of our family and friends, and avoiding crowded places. We shifted to a lifestyle where more and more of our daily lives took place online. For most people, this was a frustrating period of adjustment. However, it made life incredibly challenging for others because many websites and apps are not accessible to people who face online barriers.
What is an Online Access Barrier?
Online access barriers occur when an element of a website's design or presentation makes it difficult to read or interact with the content. Users usually struggle for one of four main reasons:
1. Reading barriers – Including unsuitable font choice, text size, or the colour contrast between text and background.
2. Comprehension barriers – When web copy uses overly complex language or terminology, the page doesn't flow logically, or when alt tags and link descriptions are missing.
3. Navigation barriers – Website errors like empty links and buttons, missing input labels on forms, and missing document language often make keyboard navigation impossible.
4. Trust barriers – Flashing images, videos, or distracting image carousels affect focus and can act as triggers for seizures.

Who is Affected
The theme of last year's IDPWD was "Not all disabilities are visible". This is something that is often overlooked. Did you know that 15% of the global population lives with some sort of disability? That's over 1 billion people. In addition to physical disabilities, online providers must also make adjustments so their websites are accessible to people with: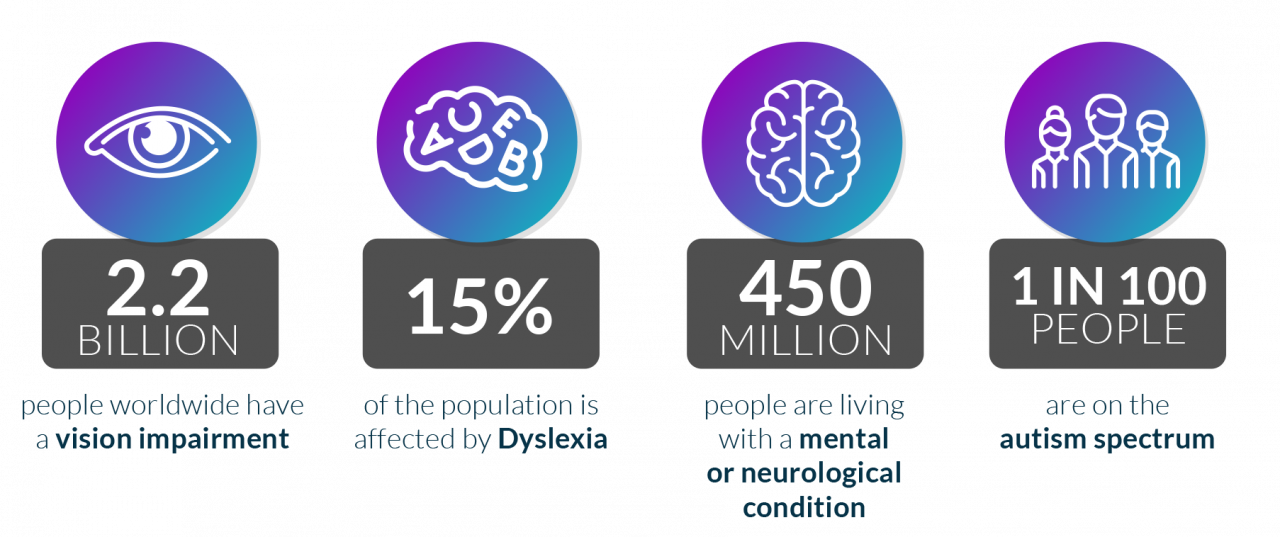 How Are People Affected
People with one or more of the conditions listed above may not be able to use a mouse, read web copy properly, focus on the information they need, or find their way around a busy screen. During COVID-19, inaccessible websites and apps made it either difficult or impossible for disabled site visitors to:
Manage finances

Shop

Pay bills

Work

Apply for jobs

Learn

Access general information

Keep in touch with friends and family
COVID-19 Website Accessibility Trends
Throughout 2020 and 2021, we've seen a significant rise in the number of businesses looking to make their websites inclusive. Since the COVID-19 pandemic began, we've taken on over 300 new clients across a range of sectors. In 2020 alone, our assistive toolbar usage increased by 20%, and over 47 million individual styling adaptions were made. Recite me is now installed on over 3,500 websites, and our data shows that in the last 12 months:
The Recite Me assistive toolbar was launched over 3 million times

Over 16.5 million web pages were viewed using the toolbar

12.3 million pieces of content were translated into different languages

31 million pieces of content were read aloud

COVID-19 Online Support
In March 2020, Recite Me launched our accessibility pledge. Ever since, we have been offering to host a free accessible and inclusive landing page for any business where visitors can access important COVID-19 messages and updates. Our pledge pages continue to support over 120 clients, helping over 87,000 individual users access COVID-19 information.
Digital Accessibility in the Workplace
There was a significant shift towards remote working during the pandemic, the after-effects of which are still lingering. Experts estimate 25-30% of the workforce will work remotely for several days per week by the end of the year, and 50% of workers will be remote by 2030.
Working remotely is favoured by many for the flexibility it offers. However, many employees report the technology they are given doesn't operate correctly in a remote setting. Others find the transition from in-person to online communication challenging – including our founder and CEO, Ross Linnett.
"I'm dyslexic, as are several other employees at the company. Because of that, we try to limit meetings to 20 minutes for increased focus, as a limited attention span is a common dyslexic trait. In the office, there are plenty of social cues that someone is losing focus – fiddling with a pen, looking out the window etc. But on Zoom calls, that's harder to pick up on. So learning how to deal with that was a challenge for me."

Ross Linnett, Recite Me Founder and CEO
Employee struggles like this and myriad more are why organisations like PurpleSpace exist. PurpleSpace is the world's only professional development hub for disability network leaders. Offering learning and development programmes, consultancy for cultural change, and an exclusive suite of member resources, the PurpleSpace team are driving business change on disability from the inside out.
"As we highlight in our Five Trust Tests, employees with disabilities are increasingly looking for evidence that organisations are open to change. Many advantages have come from working in a super-charged digital era during Covid-19. Organisations should be encouraged to keep the positive aspects as we work towards a new future. Appointing senior leaders who are responsible for digital accessibility across the organisation, both in terms of employee and customer access, is a good place to start.

Brendan Roach, Director of Strategy and Networkology, Purple Space
How Does Recite Me Help?
A proven way of supporting people online is by utilising assistive technology. Recite Me's assistive toolbar supports a diverse range of staff in the workplace by providing various tools that allow users to create a fully customisable experience. Our accessibility features can be used individually or combined to make multiple adjustments for ultimate ease of use. Users can:
Personalise font size, type, and colour options to make each web page easier to read.

Utilise the mask screen tool, which isolates parts of the page to help with focus.

Use the ruler tool to make reading easier.

Download content as an audio file as an alternative to reading.

Convert page content into over 100 different on-screen languages.

Have the page read aloud in a choice of 35 different languages.

Customise PDF documents and have them read aloud or translated.
We also provide a free web accessibility checker, this tool can be used to assess your current standing in terms of an accessibility score.

What Can You Do?
We invite you to join the fight for disabled rights in the post-COVID era and get involved with IDPWD. By learning from the experiences of people living with disabilities during the pandemic, we have the power to reduce barriers faced by people in both the online and physical world. You can access a range of downloadable resources here.
If you'd like to learn more about nurturing and supporting your disabled employees, you can contact PurpleSpace for information and support. To discover how assistive technology can help make your business more inclusive, you can contact our team or request a toolbar demonstration.