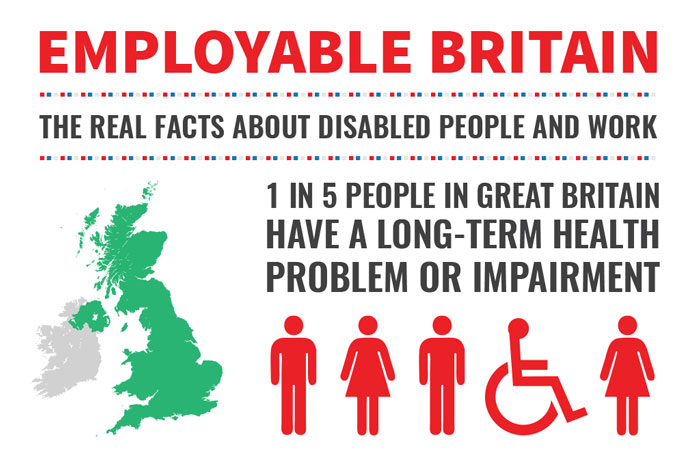 With employment levels at an all-time high, it's becoming increasingly difficult for recruiters and employers to source the right kind of candidate for their roles. The savvy ones are looking to a wider talent pool to execute their searches; one such pool is disabled talent. And, it was great to see several forward-thinking employers showcased recently on BBC 2's series Employable Me.
Why bother?
As well as being positive for your corporate image, there is a real business case for the employment of people with disabilities; statistics show that people with disabilities stay in work longer, are more productive and take less sick leave.
The development and success of Recruitment Industry Disability Initiative Awards, now in its third year, is a case in point. Previous winners include E.ON, Lloyds Banking Group, HMRC and Sainsbury's. These companies have become ambassadors of raising the bar when it comes to a more diverse workforce, and let's not forget that having a workforce that more accurately represents the diverse make-up of its customers can only be a good thing.
Despite the positive shift in sentiment, there is still a lack of parity between the employment rates of disabled and non-disabled people, there remains an average of 31.1 percentage points between the two since the start of 2008.
So what is getting in the way?
When you speak to recruiters and employers the common theme is 'fear'. Fear of getting it wrong, fear of excessive costs for adjustments, fear of tribunals and the associated bad press if you do get it wrong. The reality of employing a disabled person needn't cause so much unease, with the right tools and support it doesn't have to be a headache.
Where do I start?
Many reasonable adjustments are low-cost and easy to implement. The internet is a great place to begin researching, there are many tools out there that are easy to implement but make a real difference to the capabilities of your employees.
Recite Me removes barriers facing people accessing the internet. Every website, download, social media channel and webpage is different, a lack of uniformity can make navigating the World Wide Web impossible.
Our product is an innovative web accessibility plugin that allows its users to customise their web experience. Built for purpose, whether it's through screen-reading, colour, size, or language there are a variety of solutions that open the doors to people with sight loss, learning disabilities such as dyslexia.
So my advice is; don't get caught short, invest in your employees and they'll invest in you!