Anglian Building Products has added web accessibility software Recite Me to its website to make information more accessible by allowing users to customise the way they access the content. Recite Me lets users do things like increase the font sizes, opt to have the content read aloud to them or translate the content into more than 100 different languages.
Anglian Building Products, which is the large project division of Anglian Windows, was looking for an accessibility solution that gives much greater flexibility. It operates predominantly in the social housing refurbishment sector installing window, door and external wall insulation solutions and engaging with residents through the customer journey is a priority.

Managing the residents' experience includes how easily they can access key information about the products and service they can expect from it. To make residents aware of Recite Me, Anglian Building Products have added the logo onto the front cover of their hard copy guides and handbooks.
Ross St Quintin, Head of Sales at Anglian Building Products, said: "We decided to add Recite Me to our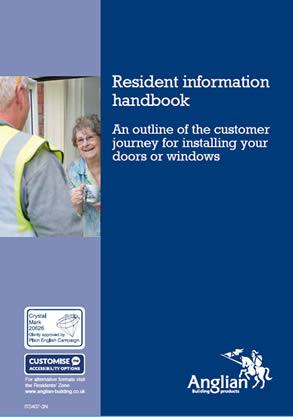 website because it has a wide variety of accessibility options that allow residents to easily access content online. We have recently completed a project that now enables our Resident information handbook and Operating, cleaning and maintenance guide to be compatible with the Recite Me software. This means our residents can now use Recite Me to view our handbooks and guides in a format and language that works best for them."
"We are also currently expanding this area to provide more information and support to help residents through the customer journey, from pre-works installation to post-work maintenance.
Overall, Recite Me has proved to be a great accessibility solution for us and we'd happily recommend it."
Ross Linnett, CEO and Founder of Recite Me said: "Adding Recite Me to the Anglian Building Products website is a great move by the company. They are also being innovative by promoting Recite Me as an accessibility option on their hard copy guides and handbooks, which is making it clear to residents that there are accessible and inclusive formats easily available online. Recite Me gives more flexibility for residents who need accessible and inclusive content and Anglian Building Products should be commended for taking these steps to help residents."
Try Recite Me for FREE on your website now
100's of organisations already use Recite Me to make their websites more accessible for their customers – why not book a free trial for your website now?
You can also try out our new site accessibility checker, which runs a scan of your website looking for any accessibility issues. You can also take a look at our web accessibility toolbar.