When Recite Me was founded in 2009, the mission was always to change the online world for the better.
With so many people facing online barriers, the primary goal was to achieve accessibility for all. At the time, computers and smartphones were already a dominant feature in most of our daily lives. However, what none of us envisioned was a time when these devices would be our only connection to the outside world.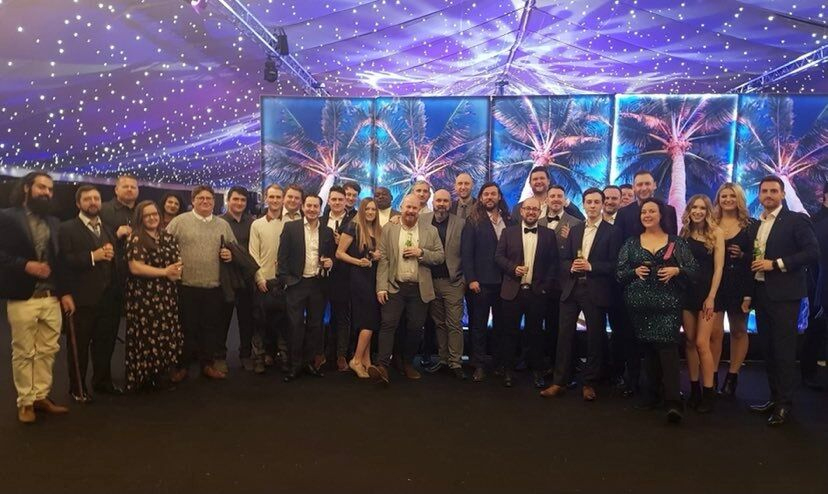 Flash forward to 2020 and 2021, and there have been several times when everyday tasks like shopping, banking, and communicating with loved ones have only been possible through a screen. This only made our mission more important.
As the year draws to a close, our founder and CEO Ross Linnett looks back on how attitudes towards online accessibility are changing, and reflects on our progress towards the goal of achieving accessibility for all…
I was sitting at our Recite Me Christmas party a couple of weeks ago when it hit me… We now have over 50 members of staff and offices in the UK, USA, and Australia. How amazing is that? And don't get me started on the fact it's nearly 2022 already. It really made me sit back and take stock.
The time during the COVID-19 pandemic has been a bit of an oxymoron. Days, weeks, and months have sped by at the speed of light, while also somehow feeling like they lasted an eternity. But I'm so very proud of the team and could not be happier with how things are going – especially as it's been a tough couple of years for many people.
To put our goals and efforts into context and give you an end-of-year summary, I think this image is both suitably festive and portrays everything that we're trying to achieve here at Recite Me.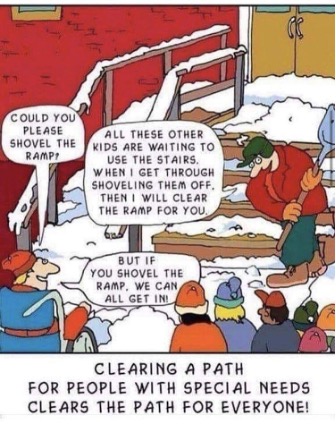 Here's another way of putting it.
"For people without disabilities, technology makes things easier. For people with disabilities, technology makes things possible."

IBM Training Manual
That was written in 1991. For people like me who still think of anything that happened in the 90s as about 15 years ago (I know I'm not the only one!), then you need to double it.
Thirty years. Thirty years since some of the biggest tech companies began promoting accessibility and inclusion as the right thing to do. Yet, it's taken a couple of decades for inclusion to become front and centre and for the mindset of the market to align with the fact that something as simple as building a ramp can help everyone, not just those who need it.
Recite Me in 2021
"The one argument for accessibility that doesn't get made nearly often enough is how extraordinarily better it makes some people's lives. How many opportunities do we have to dramatically improve people's lives just by doing our job a little better?"

Steve Krug, Website User Experience Expert
I'm happy to report that hundreds of companies have been doing an amazing job on accessibility and inclusion this year. We all know there was a sharp shift towards online commerce and communication due to the COVID-19 pandemic. This has helped considerably because the focus on accessibility and inclusion changed from something that should be done to something that has to be done.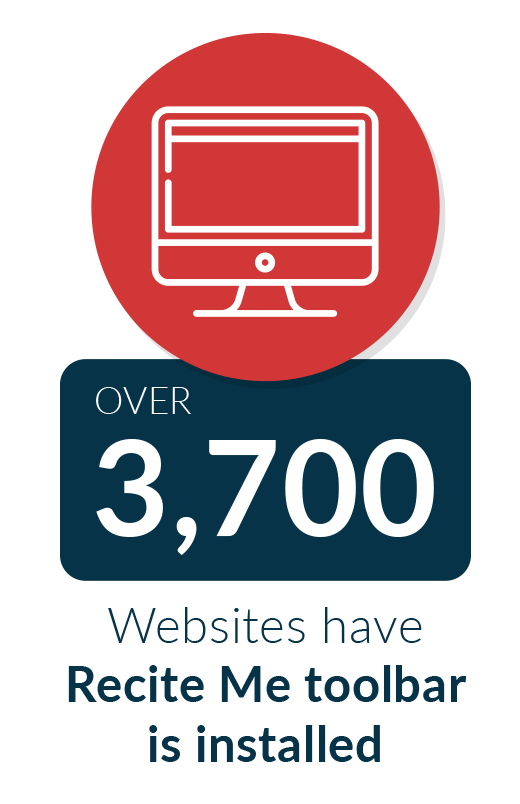 Many organisations had to adapt quickly to online business models while also supporting the needs of their customers. That's where Recite Me was able to help. Assistive technology is synonymous with the physical world concept of building a ramp for disabled users. Yes, it helps those who need it most. But in reality, it allows everyone to enjoy more comfortable and customised internet journeys.
Since the COVID-19 pandemic began, we've taken on over 530 new clients, and the use of our assistive toolbar has been growing at a rate of 80% year on year. The Recite Me toolbar is now installed on over 3,700 websites in total, helping people who face online access barriers to access over 17.6 million web pages. Plus, we're still offering to host a free accessible and inclusive landing page for any business where visitors can access important COVID-19 messages and updates. This accessibility pledge supports over 120 clients, helping over 87,000 individual users access COVID-19 information.
All things considered, we're making great progress towards our ultimate goal of achieving accessibility for all. Here are some of the ways our team has worked towards that goal over the past year.
Working Closely with Web Content Accessibility Guidelines (WCAG)
By working closely with guidelines provided by the diligent team of experts who form The World Wide Web Consortium (W3C), we've been able to keep the four cornerstone WCAG principles at the core of our software.
We've also been proactive in adapting as WCAG guidelines evolve. In 2022 we'll see the implementation of WCAG 3.0, a significant step forward from the latest WCAG 2.1 version. WCAG 3.0 will make websites, apps, PDFs, ePub, and other emerging technologies even more accessible for people with disabilities.
Of course, what our software won't do is get businesses out of the work needed to make their website initially accessible. And we're not a 'check the box on compliance' product either. Going back to our ramp analogy, think of your website like the ramp itself. It must already be well built and fit for purpose. Recite Me technology is what you add to make it suitable for all and give people a choice of how they gain access – like keeping the ramp clear of leaves and snow so everyone can use it.
Growing Our International Team
COVID-19 may have acted as a catalyst for web accessibility and inclusion factors. But the movement was already gaining traction long before that. Organisations among the first to embrace web accessibility were already discovering the positive effects on brand reputation, workplace diversity, reduced staff turnover, and all-round better business efficiency.
Good news travels fast – as does the fear of losing out to a competitor by not adapting to change quickly enough! As companies worldwide began taking a more active interest, Recite Me responded by expanding our team to cope with international demand. In 2021, we added more full-time employees to our UK and US bases, and took on our first full-time staff to cover the Australian and Middle Eastern markets. Using tech for good allows us to attract amazing candidates from across the globe, and I couldn't be happier with the dedicated and passionate inclusion-driven team we are creating.
Mission Focus
With every new client, we inch closer and closer to achieving our accessibility and inclusion goals. We're delighted to provide our assistive toolbar to several big-name brands and industry leaders, including Boots, British Gas, and Volkswagen, as well as an increasing number of education facilities, healthcare providers, charities, nonprofits and public sector organisations. All of the sectors we serve are doing a fantastic job of supporting disabled website visitors, and I'm incredibly proud of the difference we're able to make together. Our most recent 12-month stats show that:
Over 3.3 million people used our toolbar

Over 18.5 million web pages were accessed

Individual styling features were activated over 4.1 million times

Users viewed an average of 5.62 pages per session, compared to the average website journey of just 2.8.

Over 33.8 million pieces of online content were read aloud using our on-screen reader.

Over 13.5 million pieces of online content were translated into another language.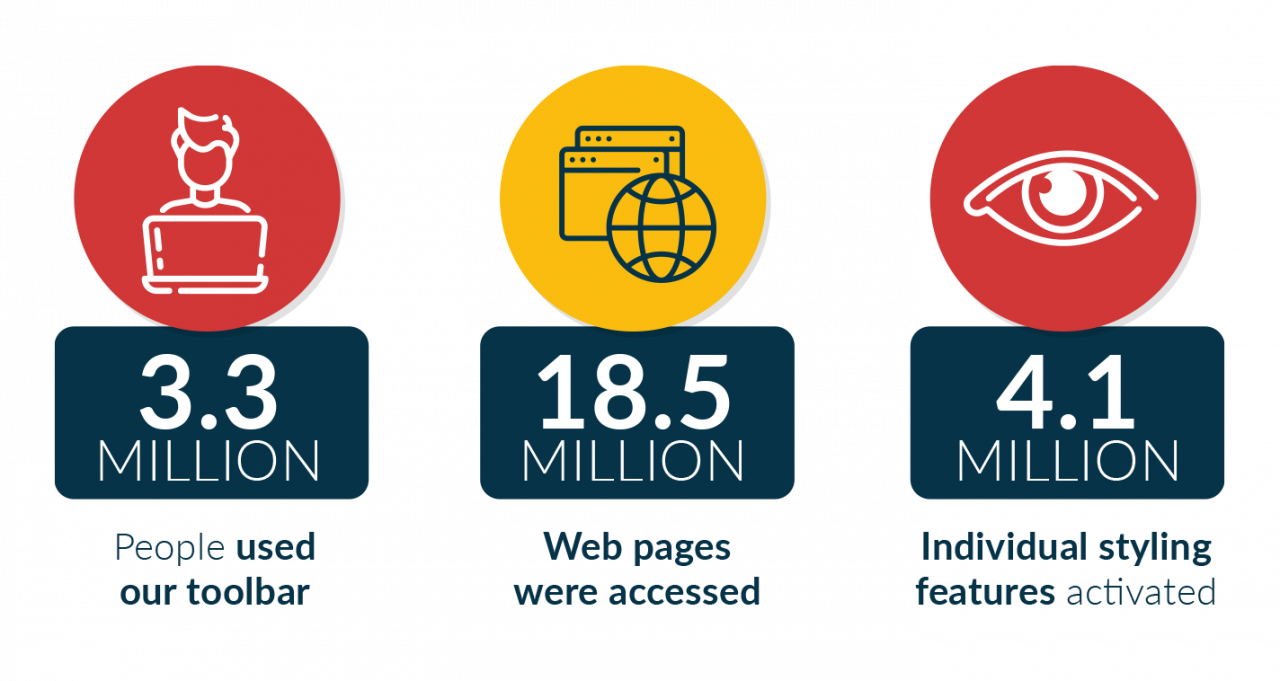 One of the things I've enjoyed most this year is expanding my network of industry contacts and spending more time discussing and spreading the word about accessibility, diversity, and inclusion. I've been part of some fantastic webinars with inspirational people from around the world. In October, we launched our very first 'What Does Accessibility Mean to Me?' week. And it could not have gone better. The team worked really hard to plan and promote the week, and I was blown away with the number of organisations and people who took part:
115 companies got involved

We reached over 600,000 people across LinkedIn, Twitter, Instagram and YouTube.

Over 450 people signed up for our live round-table webinar discussion.
Accessibility in 2022
What do we want to do next year? The same thing we do every year… Find the right people, and change the world! But in a positive, inclusive, and accessible way that benefits everyone, rather than an evil maniacal mouse kind of way!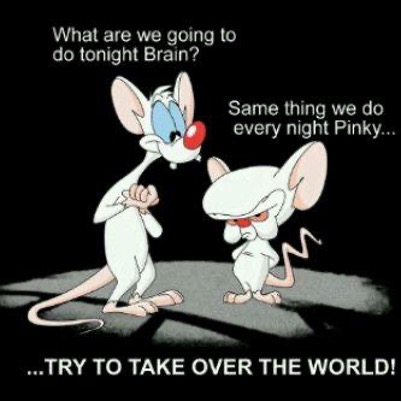 In 2022, we'll be continuing to push boundaries. We'll be forging forward with our mission to make the online world accessible to all by:
Helping more and more brands to provide inclusive online journeys.

Keeping up with our industry networking and round table/webinar discussions to spread the word about the importance of diversity and inclusion.

Continuing to find, train, and retain the best people for our teams worldwide.

Finding new ways to put website accessibility factors in the spotlight and make online inclusion a globally familiar topic.
Last Thoughts
This is not a passing fad. Accessibility and inclusion trends aren't going anywhere, and the demand for inclusive websites continues to grow exponentially year on year. So if your organisation isn't already taking steps to make your products and services inclusive, now is the time to start.
Don't wait to begin your accessibility journey. Contact our team today or book a live demonstration of our toolbar to see it in action and discover how we can help you and your customers. We also have our very own WCAG accessibility testing tool which can be used to assess your websites accessibility.