We've said it before and we'll say it again: web accessibility is a basic human right, and we believe that everyone should have the opportunity to use the internet in the way that it is intended. When Recite Me was founded in 2010 and we first began our journey, web accessibility was very much a low key factor. In recent years, however, thinking across all industry sectors is catching up, which is a fantastic development.
We're still some way off achieving our goal of accessibility and inclusion for all. However, we're proud to say that we are already making a positive difference, and particularly with the additional complications of COVID-19 pushing more consumers online this year, accessibility factors in 2021 look to be at the forefront of business development more than ever before.
Inaccessible Websites
Inaccessible websites and apps essentially create barriers to users. No matter what sector of business your organisation sits in, this is simply not good for business:
E-commerce companies are missing out on a cumulative global spend of $3.1 trillion annually.

Employers are neglecting the prospects of potential staff purely on the basis of access needs.

Financial institutions and utility companies are denying services and information to consumers who need them.

Charities and not-for-profit organisations are failing to communicate with subscribers and recipients, and missing out on opportunities to attract and retain more supporters, ambassadors, and benefactors.

Public sector and community organisations are not keeping all of their constituents updated with relevant information and news.
These statements can be easily backed up by the results of the latest Click Away Pound Survey, which discovered that:

71% of users leave a site that they find hard to use.

For 81% of users, ease of use is more important than price. In fact, 86% of consumers with accessibility issues said they would spend more if there were fewer barriers

In the UK last year, £17.1 billion was spent by consumers on sites that were easier to use (up from £11.75 billion in the 2016 survey).
At present 70% of websites in the USA have critical accessibility issues and businesses with inaccessible websites are missing out on total a disposable income for US working-age persons with disabilities of $490 billion.
Despite these staggering statistics, over 98% of website homepages still fail to comply with the Web Content Accessibility Guidelines (WCAG).
"Website accessibility and usability has been a major issue for many disabled people with access needs for many years and little progress was being made despite the law, guidance, and publicity."

Rick Williams, Click-Away Pound Survey

 
Who needs support
In short, way more people than you'd think. The internet can be an incredibly intimidating place for those with disabilities – and it's important here to note that disabilities come in a range of forms. We tend to think of 'the disabled' as those with physical or emotional deficits, but not all disabilities are visible. In the online world, anyone lacking the tools they need to adequately understand or communicate are at a significant disadvantage, and some people are unable to access the information they need at all. This includes all those who:

20% of the UK population and 25% of the US population live with a disability.

Have decreased vision – it is estimated that at least 2.2 billion people globally have a vision impairment.

Struggle with literacy – around 1% of the population in developed nations like the UK and USA have issues with basic reading and writing. This figure is significantly higher in less developed nations.

Are autistic – around one in every hundred people is on the autistic spectrum.

Speak and/or read English as a second language – up to 1 in every 5 households speaks a language other than English at home.

Suffer from attention disorders – it is estimated that around 5% of the population suffers from attention disorders like ADHD.

Have a learning difficulty – dyslexia alone affects upwards of 15% of the population.

Are affected by physical disabilities – millions of individuals have physical disabilities that make the use of standard keyboards and on-screen navigation difficult.
Best Practices for Web Design
Making a website accessible starts at the very beginning with web design. As web accessibility moves further and further to the forefront (quite rightly so!) businesses invariably want websites that are ready assembled from the off to check all the right boxes for accessibility principles. Most good web designers can coach businesses on the best practices for a build that will increase traffic and conversions through making content more accessible. There are many factors to consider, including:
Using a content management system that supports accessibility

Using headings correctly to structure the content

Including alt text for all images

Giving descriptive names to all links

Being mindful of colour use and colour contrasts

Ensuring forms are designed for accessibility

Being keyboard friendly
Doing all of this will make website content easier to read, focus on, and understand. Plus it naturally accommodates for vision problems, physical disabilities, and cognitive impairments.
The Need for Assistive Technology

The main takeaway here is that accessibility + usability = inclusion. Even by applying the best web design practices, a website isn't necessarily inclusive just because it's accessible. That's where assistive technology comes in.
Software like the Recite Me web accessibility toolbar bridges the gap between accessibility and usability and promotes inclusivity by allowing those with sight loss, cognitive impairments, learning difficulties, physical disabilities, and varying linguistic needs to access websites in the way that is best suited to them. Functions include:
Fully customisable text size, font, and spacing

The ability to change text colour and background colour contrasts

A screen mask to provide colour tinting and block visual clutter

Additional reading aids such as an on-screen ruler

Text-to-speech functions in 35 languages

Having text read aloud at varying speeds

A real-time translation feature catering to over 100 languages

A built-in dictionary and thesaurus

A "text-only" mode that strips away graphics and other page clutter
These functions account for singular adjustments and also more complex scenarios where users may require multiple adjustments for ease of use. By facilitating this, the Recite Me toolbar is able to remove barriers and allow for equal access, thus creating equal opportunities in the online world.
"Being able to make your website welcoming and easy to use for all customers is key to creating the perfect online experience."

Ross Linnett, CEO & Founder of Recite Me

 
2020 Data Trends
Last week, we took an in-depth look at accessibility data trends in 2020. We found that across the board, the demand for accessible and inclusive websites has grown exponentially in 2020: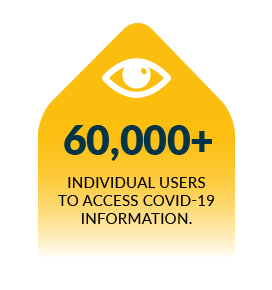 Throughout the year, we've taken on over 250 new clients across a range of sectors.

We've provided free pledge pages for over 140 clients, supporting over 60,000 individual users to access COVID-19 information.
Across a whole range of sectors including employment, education, public sector, retail, sport, leisure, travel, utility services, charities, and not-for-profit organisations, our end of year stats show that:
We've supported over 1.8 million users

Over 8.5 million pages have been accessed barrier-free

Over 40 million accessible options have been used to create an unique user experience
"The Recite Me assistive toolbar provides a great technology-based solution for us. Not only can our site be translated into hundreds of different languages, but we are also able to offer a screen reader function and a range of other accessibility tools that help make it easier for all of our passengers to access the information they need to enjoy the best journey possible through Gatwick."

Mandie Armstrong, Digital Communications Manager, Gatwick Airport

 

Web Accessibility Laws & Guidelines
The final deadline for public sector compliance with the Web Content Accessibility Guidelines (WCAG) for accessibility level AA was 23 September 2020. However, even if your company is not within the public sector, we recommend getting ahead of the curve and preparing for more guidelines and requirements for accessibility factors in the near future.
All businesses should be using the WCAG as a set of core principles and minimum standards to meet the needs of consumers internationally. Plus, there are national and international standards and guidelines that are mandated by law. Examples include:
Plus, all indicators suggest that more private sector regulations are on the way soon, and that search engines are likely to start applying heavier positive weightings to websites that are accessible.
The COVID-19 Impact
Many companies have struggled in 2020. Most organisations have had to quickly adapt and transition to push more and more of their business functions online, while at the same time continuing to support the needs of their customers. With many people confined to their homes, it has never been more important that websites take into account all users, including those with disabilities and accessibility barriers. Essentially, this has changed the priority of accessibility to be something that has to be done, rather than something that should be done
What has become clear, is that the pandemic simply acted as a catalyst for the already prevalent shift towards web accessibility and inclusion. Businesses and organisations that have already embraced these changes have learned that being inclusive can have a significant (and in some cases a much needed) positive effect on brand reputation, increase diversity in the workplace, reduce staff turnover, and lead to improved business efficiency all round. But besides anything else, being inclusive is the right thing to do.
"The one argument for accessibility that doesn't get made nearly often enough is how extraordinarily better it makes some people's lives. How many opportunities do we have to dramatically improve people's lives just by doing our job a little better?"

Steve Krug, a prominent website user experience expert

 
How to Embrace Accessibility and Inclusion in 2021
As the new year approaches, there is no better time to make a resolution to embrace online accessibility and inclusion in 2021. The digital requirements of the world show no signs of slowing anytime soon, so goal-setting for inclusion should definitely be a priority for your business in the coming months. Those who adapt earlier are much more likely to reap the benefits of increased profits, a happier and healthier workforce, and reduced legal risks. And, of course, there's the feel-good factor too!
Steps to follow for an inclusive 2021:
Take some time to reflect on the difference being inclusive will mean for your target market. Perhaps you haven't been thinking of accessibility as a priority up until now. But by making your products, services, and information accessible to at least an extra 15-20% of the population, you stand to increase traffic flow and revenue considerably by being inclusive.

Check that your web design conforms to best practices and principles for accessibility.

Familiarise yourself with the Web Content Accessibility Guidelines (WCAG), and make sure your website meets the national and international legal requirements for your region.

Look into assistive technology software to add further layers of usability to your website to make it truly inclusive.
Recite Me is simple to implement and in many cases can be installed on your website in under an hour by adding a small amount of JavaScript to each of your webpages. Join the hundreds of companies who have already installed our inclusive software by contacting our team for more information, or book a toolbar demonstration.